Binh Hoang, Co-Chair
Formerly the Finance Chair, 

Binh

 is now the Co-Chair of GAPIMNY. 
He's an avid reader, anime enthusiast, and EDM concertgoer. He's still trying to one day become a data scientist Jigglypuff, so if you know a thing or two about Python, R, or statistics, please help him.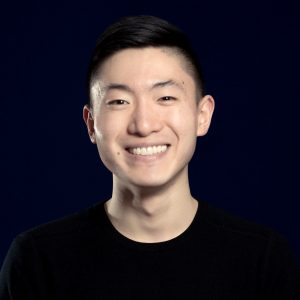 Ty Matsunaga, Co-Chair
Native New Yorker and Tokyoite, Ty joined GAPIMNY in 2017. Touched by the eye-opening space the organization fosters, he is excited to play a supporting role in empowering the Steering Committee and QTAPI community at large. You can often find him highly caffeinated at cute coffee shops, the movies, the swimming pool, or at Japanese restaurants.
Kevin Chen, Communications Chair
Kevin joined GAPIMNY in 2016. He grew up in the good ol' Hudson Valley before moving to the NYC area after college. He enjoys learning languages (10 and counting), weight lifting, and songwriting. He works at Squarespace as a senior software engineer.
Jason Wu, Political Co-Chair
Jason has been part of GAPIMNY's Steering Committee since 2015.  He was born and raised in NY and previously lived in  Los Angeles.  He currently works in civil legal services fighting gentrification and displacement of low income communities of color, and is an active member of his union.  He is excited to organize with GAPIMNY members towards collective liberation.
James McMaster, Political Co-Chair
James started attending GAPIMNY events in Summer 2017. He is a PhD candidate in the Department of Performance Studies at NYU writing a dissertation about performances of care in queer and feminist Asian America. An aquarius (libra rising, leo moon), James likes karaoke and hates racial capitalism.
Johanes Atmaja, Finance Chair
Johanes Atmaja has been part of GAPIMNY's Steering Committee since 2018. He was born in Indonesia  and moved to New York in 2007. He is passionate about ensuring a safe and secure space for fellow queer immigrants in NYC and beyond. He loves to eat out, read manga and travel. His favorite quote is "Pioneering is never done in front of cheerleaders urging on a roaring grandstand of popular approval." George Takei
Jacob Chen, Social Co-Chair
Jacob Chen is a Partner at Dai & Associates, P.C., specializing in commercial litigation. He maintains a diverse caseload including real estate disputes, landlord & tenant cases, and employment discrimination. Jacob graduated from the New York University School of Law and the Leonard N. Stern School of Business. He is GAPIMNY's Development Chair and as such plays a major role in GAPIMNY's fundraising efforts and initiatives. In addition, he intends to expand GAPIMNY's capacity for helping its members engage in professional networking and believes nothing empowers the Queer API community like having the resources to affect change. He got married in 2013 to Michael Rebolos at Oheka Castle in Huntington LI and the two have lived happily since in Downtown Brooklyn and only recently just this year, adopted a Yorkie named Louis.
Christopher Routh, Social Co-Chair
Ryan Shen, Member-at-Large
Ryan Shen has served many years in leadership of queer Asian organizations — GAPIMNY, Q-WAVE, and national organization NQAPIA. He's contributed to The Gaysian Diaries in hopes to raise trans Asian visibility and awareness. He also has many years of experience working in IT and is interested in chatting with members about careers in tech.
Jason Kwong, Member-at-Large
Jason joined the Steering Committee in 2009 and has served as Co-Chair and Health and Communications Chairs. Before moving to New York, he worked with the queer API community at A&PI Wellness Center and Gay Asian Pacific Alliance (GAPA) in San Francisco, CA. He works in public health conducting health care research and policy. He has been helping organize Poongmul Movement Builders, a queer API Korean drumming group, since 2012. He is also a part of Asian American Impact Fund, a New York giving circle. During the summer, you can find him around Flushing training with his dragon boat team.
Patrick Lee, Member-at-Large
Patrick is a queer Korean American filmmaker and journalist. He's currently working on films about Asian American coming out stories, LGBTQ self-representation, and queer Asian history. He also works with the National Queer Asian Pacific Islander Alliance and helps produce a monthly pan-Asian drag show in New York. Patrick's favorite snack is peanut butter.
York Chow-Wong, Member-at-Large
Bruce Wang, Member-at-Large
Kiwi Nguyen, Member-at-Large